Ann Zabaldo has been active in cohousing since 1991. She has worked on a number of cohousing projects in the Baltimore-Washington area. She is a financing partner for Liberty Village Cohousing outside Frederick, Maryland. She served as their marketing and outreach person for two years 1996-1998.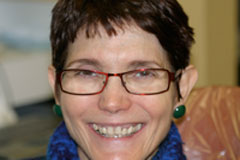 Ann joined

in the Fall of 1998. As Cohousing Consultant, she oversees organizing the various cohousing groups and focuses on marketing and outreach. Takoma Village was the first community she worked on for Eco Housing and it reached 75% sell through before groundbreaking, as did Eastern Village Cohousing, Eco's second cohousing project.

Ann is also a past President of the Board of Trustees of the Cohousing Association of the United States, a national nonprofit organization, and serves on the board of Mid-Atlantic Cohousing. She has spoken at many cohousing conferences and served on many cohousing discussion panels. She graduated from Florida State University in 1972, and has four years of postgraduate work including an M.A. from the same institution.